Hawaiian Lomi Lomi Massage 
60 min – 60 euro , 80 min – 80 euro
The traditional hawaiian massage using  rhythmic and flowing forearm and hands strokes works on the physical and spiritual body , relaxing muscles, increasing circulation and promoting overall well-being.

Lomi Elua – Deep tissue
60 min -70 euro , 80 min 90 euro
This Style of advanced lomi lomi is designed for the treatment of specific areas of concern. It's considered the hawaiian deep tissue , using firm but gentle techniques restoring balance and body alignment . Ideal for muscular and joint problems , athletes  , and for those who look for a deep treatment.

Lomi Lomi Hapai and Sidelying Massage
60 min – 60 euro 80 min – 80 euro
A special massage , in side-lying and supine position , for pregnant women that look for a relaxing time and to ease pregnancy related physical changes  such as fatigue, swelling,  muscle and joint problems. Ideal also for body alignment after giving birth. This type of massage also works well for any client that doesn't feel comfortable in a prone position.

Lomi 'ili – Hot Stone therapy
70 min – 80 euro
In this treatment the use of heated hawaiian lava stones is integrated into the traditional hawaiian massage which infuses heat and energy to the body . It promotes muscle relaxation , improves blood circulation , promotes body detoxification  and at a spiritual level opens up the energy pathways.

Kua Lua – Hawaiian back walking 
70 min – 80 euro
An ancient Hawaiian artform  administered with therapist's knees and feet, using a profound technique to deeply restore body alignment. Recommended to people that look for a firm treatment, athletes, persons with back pain, and for those who can never get enough pressure in a massage .


Each session is unique since it will meat the physical and spiritual needs of the client and it might include anywhere from traditional to advance Lomi Lomi massage , hot stone, shiatsu , sport massage and spirituality .
Vietnamese Massage and Dien Chan Zone® Face Treatment
80 min € 80 face and body.
Designed to give well-being by dissolving blocks and rebalancing disharmonies. Energy imbalances depend on various external factors such as climatic factors, fatigue, trauma or attributable to the emotional sphere such as anxiety, stress, disturbances. Daily anxieties that negatively affect the body, hindering the flow of energy and causing very common discomfort such as muscle tension and stiffness, intestinal disorders, headaches that can be rebalanced thanks to the Vietnamese massage.
It is advisable to show up without makeup or jewelry; not recommended in case of recent aesthetic medicine treatments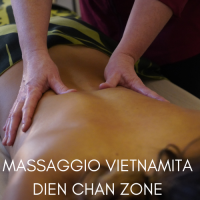 Thai Foot – Foot massage
60 min – 60 euro feet  75 min – 70 euro feet and hands 
A massage with ancient origins that comes to us from Thailand. A real ritual, which starts with a foot bath and scrub with salt and lemon,  to continue with a massage that goes from the feet to the knees.Through stretching, friction and pressure with the hands and a wooden stick, the energy points and reflexes throughout the body are stimulated. It reduces tensions, gives a sense of lightness to the legs and a general well-being by reducing stress and improving the quality of sleep.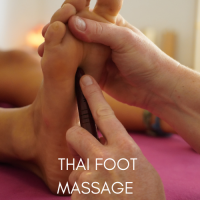 Dien Chan Zone ® Facial Reflexology
 30 min € 35 face only or 50 min € 50 face, head and neck
It is a massage technique with roots in Vietnam and developed in Italy which, through small movements performed with the support of a massage tool, stimulates different areas of the face that correspond to the body organs; by doing so, our brain sends a message to the organs in difficulty, promoting a physical and energetic benefit. In addition, thanks to the micro-stimulation carried out on the face during the massage, benefits are also obtained for skin tone and elasticity. At the end, a personalized map will be delivered to continue independently at home, extending the benefit of the treatment.
 It is advisable to show up without makeup or jewelry; not recommended in case of recent aesthetic medicine treatments
Dien Chan Zone® Face Treatment
30 min € 35 face only or 50 min € 50 face, head and neck
Designed to give well-being and beauty to your face through stimulations on the muscles and skin of the neck and face using a gentle stimulation of the fingertips. A unique treatment developed by AIRFI to tone the facial muscles, improve the functionality and appearance of the skin or wrinkles. It works on the face, head and neck thus influencing the muscles of the whole body, improving the elasticity of the skin and its tone, relaxing and giving brightness and smoothness to the face. Very relaxing treatment.
It is advisable to show up without makeup or jewelry; not recommended in case of recent aesthetic medicine treatments